Nuove Certificazioni ITIL®4 Practices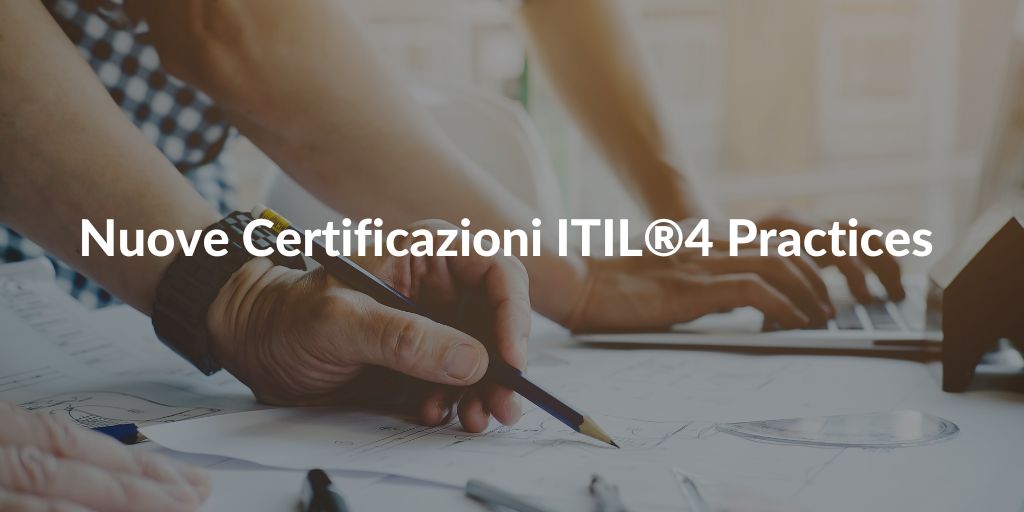 Nell'aprile 2023, Peoplecert ha lanciato i nuovi moduli ITIL 4 basati sulla pratica.
I corsi ITIL 4 Practices sono destinati a professionisti che desiderano dimostrare e convalidare le proprie competenze in specifiche aree di pratica o stabilire una buona collaborazione tra pratiche e flussi di valore di servizio efficaci con incarichi pratici integrati nei corsi.
I moduli forniscono una formazione più breve e flessibile con l'opportunità di raggruppare, combinare e abbinare i moduli.
Il primo lotto di 5 singole  ITIL Practices e Monitor, Support & Fulfill , il corso combinato che copre tutte e 5 le pratiche, consiste in:
Service Desk
Incident Management
Problem Management
Service Request Management
Monitoring and Event Management
 ITIL Practices: formazione ed esami
Ogni corso di pratica individuale consiste in 1 giorno di formazione. L'esame dura 30 minuti e contiene 20 domande.
Il corso di pratica combinato ITIL Monitor, Support & Fulfill è una formazione di 3 giorni. L'esame finale dura 90 minuti e consiste in 40 domande.
Per ottenere la designazione di Practice Manager, dovrai aver completato 5 pratiche individuali più il modulo ITIL Specialist: Create, Deliver and Support , oppure dovrai aver completato il modulo di 3 giorni in bundle o combinato più il modulo ITIL Specialist: Create, Deliver and Support.
Sei interessato ai nuovi corsi di  ITIL Practices? Contattateci per maggiori informazioni!