PRINCE2 2017: il capitolo "Tailoring and Adopting" scaricabile gratuitamente!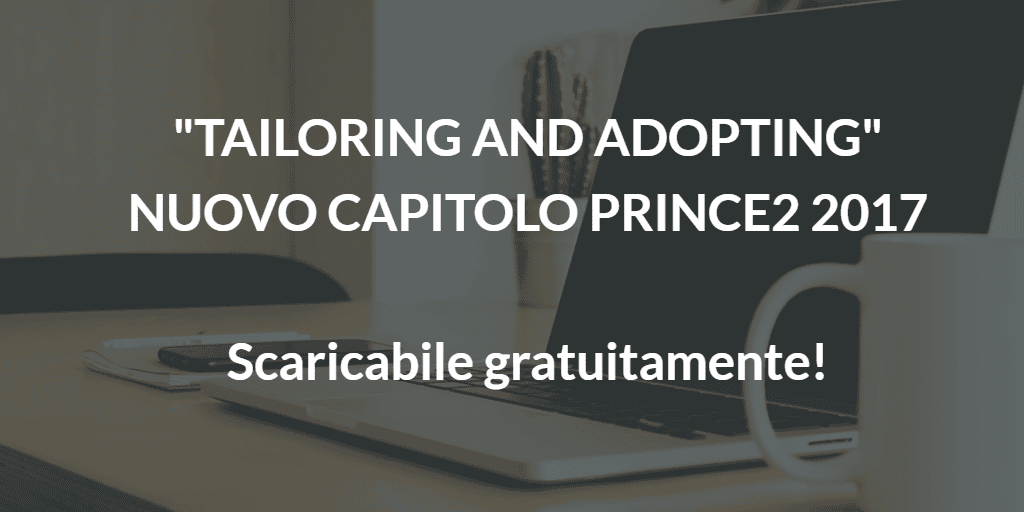 Il nuovo manuale ufficiale "Managing Successful Projects with PRINCE2" è disponibile ed acquistabile dal nostro sito (segui questo link per acquistare la tua copia).
Ma Axelos ha deciso di stuzzicare ancora di più la vostra curiosità consentendo il download gratuito del "Content summary" della versione 2017 del manuale PRINCE2, ma soprattutto il download del Capitolo 4 "Tailoring and adopting PRINCE2", il NUOVO capitolo che promettere di rendere PRINCE2 ancora più scalabile e flessibile.
Come riportato nel capitolo:
"La guida all'adattamento fornita in questo manuale non è esaustiva, in quanto le possibilità di applicazione di PRINCE2 sono infinite. Questa guida è fornita per illustrare gli aspetti da considerare e alcuni esempi pratici che possono essere applicati". 
CAPITOLO 4: Tailoring and Adopting PRINCE2
Il quarto capitolo del manuale ufficiale PRINCE2 2017 ha l'obiettivo di mostrare come utilizzare la flessibilità di PRINCE2 per adattarlo ad ogni progetto e stabilire un metodo di project management aziendale basato su PRINCE2. Questo capitolo include situazioni che un project manager può incontrare.
Il capitolo è ora disponibile per il download e include:
cosa puoi adattare e cosa no
chi è responsabile per l'adattamento e documentazione
esempi di diversi ambienti di progetto
adattamento ed integrazione di PRINCE2 in un'organizzazione
Il capitolo contiene anche suggerimenti specifici per assicurarsi che l'adattamento del metodo aggiunga effettivamente valore. Il capitolo illustra anche 5 situazioni comuni nelle quali adattare PRINCE2:
PRINCE2 in progetti semplici
PRINCE2 in progetti che utilizzano un approccio Agile
PRINCE2 in progetti che coinvolgono una relazione tra un cliente commerciale e un fornitore
PRINCE2 in progetti che coinvolgono più organizzazioni
PRINCE2 in progetti all'interno di programmi
Per scaricare e leggere il capitolo completo segui questo link!